There are so many great blogs out there. Seriously....the inspiration is endless! I tend to visit a lot of the same blogs on a daily basis (those listed on the right), but I definitely love to branch out and explore when I have more time. So, I had a little extra time on my hands this morning while I was
patiently
waiting at the doctor's office, and I came across a few "link parties." And wow. These are my new favorite things now. Honestly, it is the best way to find great ideas, inspiration and some fun new blogs to follow. On this particular occasion, I happened upon three blogs that were having their weekly link parties, and after checking out almost ALL of the linked projects, I decided to include my own. So far, the only project that is really "done" in my house is the half bath, so that's that one I chose.
Definitely go check these blogs out, though, and all of the links too!
Warning: The only problem with these kinds of parties is that you end up with a TON of new projects/ideas on your to-do list......which is probably already too long!!!
The Romantic Home
I love her shabby chic style. Her home is filled with beautiful, crisp white and cream touches!
She has been blogging for years and is truly inspiring! Go check it out!

________________________________
The Shabby Nest
Beautiful style, beautiful ideas and a beautiful home. I love reading her blog
and have recently become a follower!!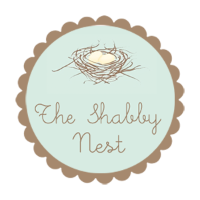 _________________________________
Home is Where My Story Begins
I just came upon this blog today and it is really lovely! I haven't had a chance to browse her entire blog, but she seems to have a lot of great home-related posts, as well as some yummy recipes!!
Check it out!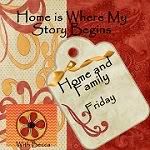 And I would not have come across this last link party, or had the courage to link up to ANY of them, had I not read Jolie's post today at
Shopping Candy for My First Home
. I am a new follower of her blog and she totally inspired me. I'm not sure why I was always afraid to link up to these parties....maybe I just felt like my projects weren't worthy of being included yet. I'm kind of the newbie around here. Some of these women have been blogging or doing DIY/crafty things for YEARS now and I just feel a little behind. I'll get there though. I guess you have to start somewhere, right?
Oh, and before I forget.......another blog that has been doing a lot of link parties lately is
The Lettered Cottage
(which I L.O.V.E). Layla has been showcasing some before and afters in the last week or two and has opened up the forum to post your own related renovations. She has covered guest bedrooms, nurseries and mudrooms...oh my! Go check it out, and link up if you have your own updates to share! And even if you don't have any projects of your own to share, it would be difficult to leave her blog without ideas pouring out of your head!!!
Happy Friday!!