I've linked up the kitchen renovation to a few parties this week. Go check them out....there are a TON of really great renovations, DIY projects and ideas all in one place. Well, I guess two place, if you want to get technical. Thanks for hosting
Remodelaholic
and
Shabby Chic Cottage
.....so much fun!!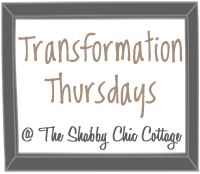 Oh, and I just heard this morning from Lindsey at
Better After
that she is going to be featuring our kitchen transformation on her blog soon!! YAY! So exciting. I'll keep you posted when that actually happens. I really love her blog, so this is an honor. Go check it out!
And on a similar kitchen-related note....I've decided (as of last night) that we are not going through with the previously planned backsplash idea. After laying out all of the tiles and assessing the design, I realized that cutting almost EVERY tile to conform to the pattern that I wanted (white porcelin tiles in a diamond shape) was not worth all of the effort. The height between the countertops and the cabinets would leave me with only two full diamond-shaped tiles between and then two cut pieces on the top and bottom (different sizes). That would not only be a pain to cut, but it would also make it more difficult to go off of a set point while tiling. For most tiling projects, you select a corner or a center-point (depending on the pattern) and work out from there. With the diamond pattern, I would have to draw out the whole design and try to place the tiles exactly right or else they will ALL be crooked. I suppose you run that risk with any pattern, but I feel less comfortable DIYing something of that caliber.
So now we are back to one of my other plans. Early on in the design phase, I dreamt of using white subway tiles in a brick pattern. I've seen this done so many times in magazines and on design websites....even in movies! It is gorgeous! In fact, I was watching Something's Gotta Give on Wednesday night on Lifetime and saw the infamous beach house, styled by Beth Rubino and designed by Nancy Meyers. It's a coincidence that the movie was on that night, since
YoungHouseLove
did a post on Nancy Meyers designs earlier that day. Weird, right? I'm pretty sure EVERYONE is in love with Diane Keaton's Hampton's house from that movie, though. It's hard not to love.
Although a plain white subway tile backsplash may sound boring, I think it will be MUCH easier to accomplish by myself AND will still convey the simple, classic look I was going for. At least I hope.....
Now I just need to find the receipt for the old tiles and see if Home Depot will take them back!! They are usually good about that, so I hope I will be able to do that. Ultimately, it will be the same price, maybe even a little cheaper to go the subway tile route. AND...now that the project is a little easier and a little more at my level of skill....I'm actually EXCITED to do it!! :) So hopefully that means that I will be able to get it done sooner than I thought!
Photo Credit: Unknown
Photo Credit: Better Homes and Gardens
Photo Credit: Southern Living
What do you think about the switch??