I've been featured on one of my favorite blogs! So exciting! Lindsey over at
Better After
has featured our kitchen transformation on her blog today (well, actually I think it was yesterday)! I'm so honored to be included with her other DIY friends in blogland!
Thanks, Lindsey!!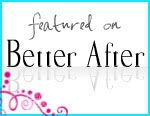 And if you haven't been over to her blog before, I definitely suggest checking it out (and not just for another peek at my kitchen). She hosts a bevy of awesome transformations which is great inspiration to anyone who is hesitant to take the plunge into their own DIY or renovation project! Go for it!
Oh, and as promised, I have a photo of the wedding menu for the client I spoke about yesterday! I hope she likes it!
Happy Wednesday!!